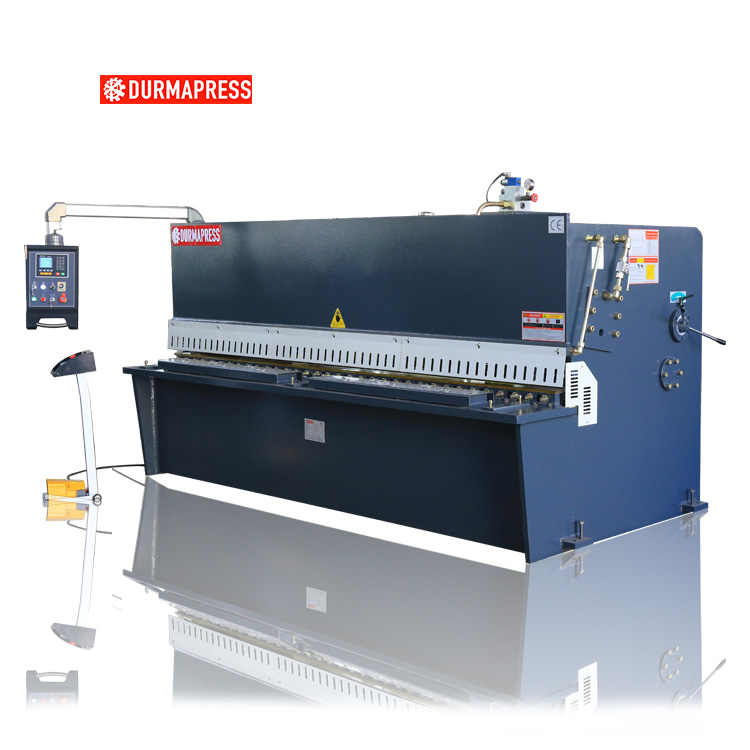 1. The second generation of Brake type plate shearing machine;
2 hydraulic brake plate shears with high resolution display
Hydraulic plate shearing machine is suitable for cutting all kinds of metal plates
To adjust the cutting Angle and length of the blade clearance can be used for dry cutting of different materials and thickness
The gold
The adjustment of blade clearance depends on the thickness and material of the metal plate to be cut. Proper clearance
Not only can effectively extend the life of the tool, but also to ensure the quality of cutting. In general, the amount of adjustment
Is 10% of the thickness of the plate.
6 The shear Angle can be adjusted to ensure the minimum deformation of the CNC plate shearing machine
Product features:
1. The second generation of hydraulic plate shears;
2. Hydraulic brake plate shears with high resolution display
3. Hydraulic brake shearing machine is suitable for cutting all kinds of sheet metal
4 By adjusting the blade clearance, cutting Angle and length, can be used for cutting different materials and thickness of metal
5. The adjustment between the blades depends on the size and material of the whole house board to be cut. The barrier can not only effectively extend the life of the cutting tool, but also ensure that the cutting quality is, usually, adjusted to ten percent of the size of the plate
6 The shear Angle can be adjusted to ensure the minimum deformation of the plate.
7 using steel plate welding structure, through vibration aging to eliminate stress, has good rigidity and stability; Adopt three-point supporting rolling guide rail to eliminate supporting gap and improve shearing quality;
9. The blade clearance is adjusted by hand wheel, which is quick, ready and convenient; 10 Rectangular blade, all four cutting edges can be used, long service life :11 adjustable shear Angle, reduce sheet distortion;
12. The tool rest adopts incline structure to facilitate blanking and improve the accuracy of the workpiece; 14. Motor rear stopper, digital display; 15. Rear loading device (optional)
Main configuration:
1. Numerical control system
3. Control the rear stopper
4. Taiwan silver ball screw
5. Front carrier
Bosch Rexroth hydraulic system
7. German EMB ferrule connector
8. Siemens Beder Motor
9. Schneider Electric
10.Hydraulic/electrical overload protection
11. Light line
This machine tool design, manufacture, inspection, installation, using the following
1.standard 1GB17120-1997 "forging machinery safety technical conditions"
2. Jb5197-91 "Technical Conditions of Plate Shears"
3Q/321088JWB5-1999 "CNC plate shear Precision"
Transportation and packing
1, the use of waterproof soft packaging, not recycling.
2. Automobile transportation, supplier contract transportation.
After-sales service
The whole process of product design, manufacturing, sales and service is strictly in accordance with ISO9001 quality system standards.
2, the quality of the implementation of three guarantees three guarantees period for one year, lifetime to provide parts and maintenance services,
3, free installation guidance and responsible for debugging.