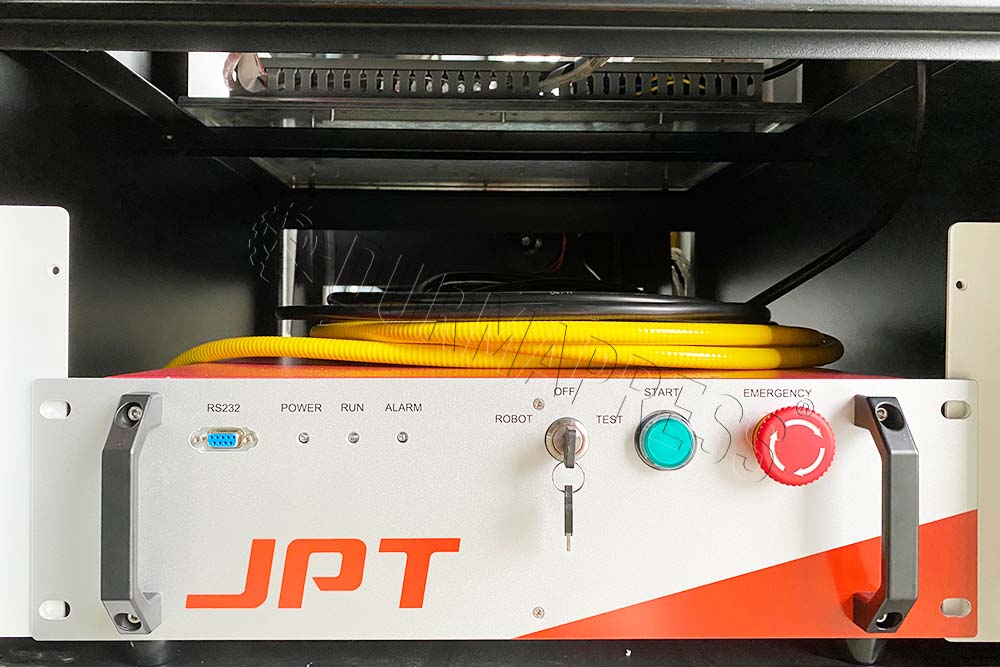 Due to the rapid development of the welding industry, the market have also become more and more kinds of laser welding machine, with the laser welding machine applicable scope is becoming more and more widely, also because hand-held laser welding machine equipment have high precision, high speed, no pollution, wide welding material, and many other advantages, many industries have been using a handheld laser welding machine for welding equipment, About someone said that handheld laser welding machine equipment welding port is easy to break, uneven welding surface, Yin Angle Yang Angle difficult welding, this is true?
HW-A Handheld laser welding machine equipment
First, the scope of application of handheld laser welding machine equipment
1. Sanitary industry: welding of water pipe joints, reducer joints, tees, valves and sprinkles
2 glasses industry: stainless steel, titanium alloy and other materials of glasses buckle position, frame and other positions of precision welding
3. Hardware industry: impeller, kettle, handle, complex stamping parts, casting parts welding
5. Medical industry: welding of stainless steel seals and structural parts of medical instruments and instruments
6. Electronic industry: welding of metal casings and structural parts such as mobile phones and electricity. Motor shell and connection welding, optical fiber connector connector, etc
Two, handheld laser welding machine equipment product advantages
1. Simple and convenient operation: general workers can get started after simple training.
2. Handheld welding head is flexible and convenient. Handheld laser welding machine is suitable for spot welding of all kinds of complex welding joints and all kinds of equipment. The workpiece can be welded in any position at any Angle.
3. High quality welding effect: fast welding speed, solid and beautiful welding seam, smooth and beautiful welding joint, weld flat without pores, to bring efficient and perfect welding program for users.
3. Low maintenance cost: there is no need to add welding wire when welding handheld laser welding machine equipment, and there is basically no cost of consumables. Maintenance-free daily basic, labor-saving more worry. High photoelectric conversion rate, low energy consumption, long-term use can save a lot of processing costs.
4. Welding material wide: welding all kinds of stainless steel, all kinds of stainless steel, aluminum, aluminum alloy, galvanized sheet, copper, copper alloy, etc.
5. High production compliance rate: for small-scale processing or non-large-scale welding of the production workshop, handheld laser welding machine equipment is a better choice, take up little space.
It is mainly used for welding stainless steel, carbon steel, silicon steel, aluminum alloy, titanium alloy, galvanized sheet, aluminized zinc sheet, copper and other metal materials fast welding.
1. Integrative structure, ergonomic hand-held welding joint, easy to operate and easy to carry;
2. Imported fiber laser generator, good spot quality, stable output power, to achieve high quality welding;
3. With light safety control box, can ensure the safe production of laser in the welding process;
4. Professional laser welding software can realize high-speed and accurate welding function;
5. Ultra-low operating cost, the laser only consumes 1~1.5 kWh of power per hour;
Maintenance of welding machine
First of all, special attention should be paid to the inspection of the welding machine's internal or external joint terminals, which can only be carried out after the input power switch is turned off.
1. Do a good job of testing regularly. For example, check whether the rotation of cooling fan is smooth when the welding machine is energized; Whether there is abnormal vibration, sound and smell; Whether there is leakage of gas; Whether the joint of the welding wire and the wrapping of insulation is loose or peeling off; Whether there are abnormal heating phenomena in the welding cable and the wiring parts.
2. As the welding machine is forced air cooling, it is easy to absorb dust from the surrounding and accumulate in the machine. Therefore, we can regularly use clean and dry compressed air to blow away the dust inside the welding machine. In particular, the transformer, the reactance coil and the gap between the coil and the power semiconductor parts should be particularly clean.
3. Check the wiring parts of the power wiring regularly. Whether the wiring screws of the terminals such as the input side, the output side, and the wiring parts of the external wiring and the wiring parts of the internal wiring are loose or not, the rust should be removed to make the contact conductive good when rusting.
4. Long-term use of welding machine will inevitably make the shell deformation due to contact, rust and damage, internal parts will also wear away, so in the annual maintenance and inspection to implement the replacement of defective parts and shell repair and insulation deterioration parts of the reinforcement and other comprehensive repair work. Replacement of defective parts in the maintenance of all the best to replace the new products to ensure the performance of the welding machine.
The above regular maintenance and inspection can reduce the occurrence of welding faults. Although it takes some time and effort, it can prolong the life of the welding machine, improve the efficiency of the operation, ensure the performance of the welding machine and improve the safety. It is an important content that can not be ignored in welding work.