IPG is saddened to announce the death of its founder, Dr. Valentin Gapontsev
Views: 6 Author: DURMAPRESS Publish Time: 2021-10-26 Origin: DURMAPRESS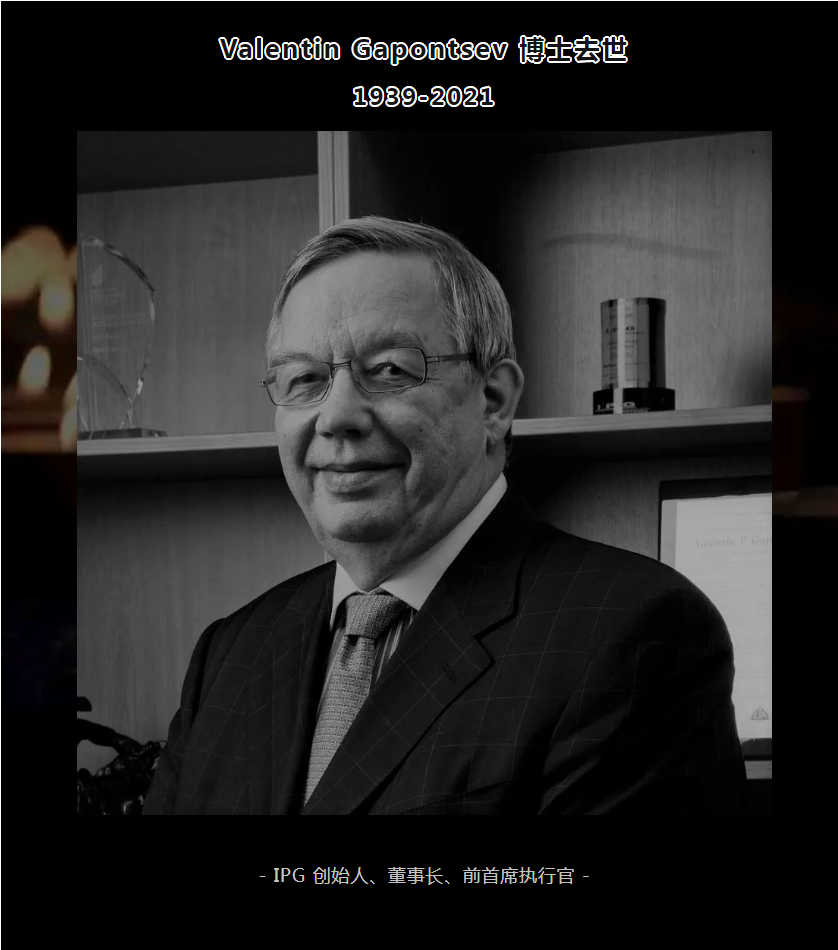 IPG is saddened to announce the death of its founder, Dr. Valentin Gapontsev
IPG Photonics is deeply saddened to announce the passing away of its beloved founder, Chairman and former CEO, Dr. Valentin P. Gapontsev.
"Valentin's death is a great loss to the IPG family, as well as to the photonics world," said CEO Dr. Eugene Scherbakov. Valentin's technological innovations, strategic vision for fiber lasers, and entrepreneurial drive have transformed the laser industry and industrial automation, enabling lasers to eventually become low-cost, reliable, and effective tools for large-scale use in global industrial production. Recognized as the father of industrial fiber lasers, his leadership and unique strategy have kept IPG at the forefront of rapid technological developments and will continue to inspire us to strive for excellence in all we do. Our love and thoughts are with his wife and family at this extremely sad time."
Dr Gapontsev, who was 82, founded IPG's predecessor in 1990. He has served as chairman of IPG since its inception and served as chief Executive Officer until April 2021. His scientific innovations and business vision led to the establishment of vertically integrated operations, and IPG employs more than 6,000 people worldwide. Dr. Gapontsev is the inventor of more than 100 patents and has published more than 200 scientific papers. In 2006 he was awarded the Ernst & Young New England Industrial Goods and Services Entrepreneur of the Year award and in 2009 he was awarded the Arthur L. Schawlow Award by the Laser Society of America. In 2011, he received the Russian Federation State Science and Technology Award for Technology and was named honorary member of the Optical Society of America. In 2010, the International Society of Optical Engineering (SPIE) named Dr Gapontsev as one of 28 "laser luminaries" who have made significant contributions to lasers since their invention 50 years ago.
John Peeler, Lead independent Director of the IPG Board, said, "Valentin's vision and success in scientific innovation over the past 30 years has been well recognized for combining it with entrepreneurship. He was a passionate leader of IPG and left an indelible mark on everything and everyone he came into contact with. As a mentor and friend, he was also generous and changed so many lives for the better."
About interpublic
IPG Photonics is the world's leading developer and manufacturer of high-performance fiber lasers and amplifiers for a wide range of applications and markets. Low, medium and high power lasers and amplifiers are widely used in materials processing, communications, entertainment, medical, biotechnology, science and technology, and advanced applications. Our products are replacing traditional laser applications in many fields and opening up new applications for laser technology.
As a pioneer and innovator in the development and commercialization of fiber lasers and amplifiers, the company relies on its brand name and position to gradually increase its market share in an expanding market. Thanks to superior performance and value, IPG lasers continue to replace traditional laser equipment in many existing applications. Simply put, IPG products are changing the landscape, making tomorrow's applications possible today.
If you need to purchase cnc 12kw fiber laser cutting, please contact Candy Wang at our website https://www.durmapress.com/