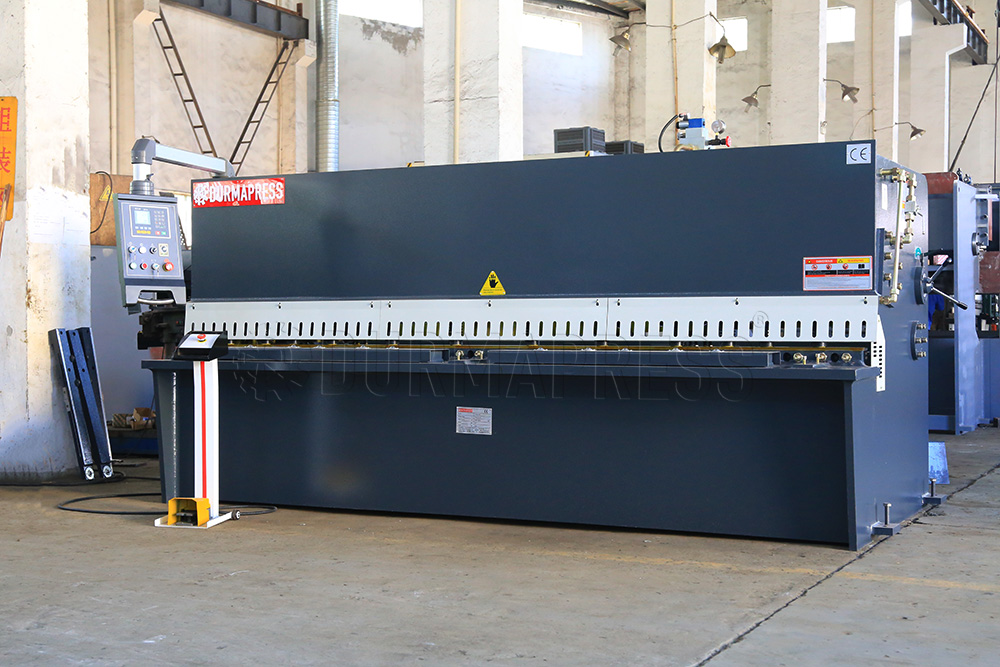 1, The machine is all steel welding mechanism, hydraulic transmission, vibration to eliminate stress, high strength, good rigidity.Hydraulic pendulum plate shears by using the main cylinder (fixed on the wall) to do downward shear movement, nitrogen cylinder return, so simplify the hydraulic system, more stable operation.The tool rest of pendulum shearing machine swings around a fixed axis in the shearing process. Through the lever action, the fulcrum force is small, which can improve the life of the shearing edge and machine. The whole machine is compact in structure, and can adjust the stroke of the tool rest infinitely, greatly improving the working efficiency.

2, CNC system function (Holland DELEM) : full Chinese display, easy to operate.The rear stopper device is adjustable by power block, with one-way and two-way positioning function, which can effectively eliminate the clearance of the lead screw, and has the function of making concessions to select materials, so as to avoid the interference between the stopper device and the workpiece, reduce wear and tear, improve the positioning accuracy, and have the function of searching the reference point automatically or manually.With the function of power off location memory, parameters, location and program for on-site protection.With the function of multi-step processing programming, it can realize multi-step operation, complete the one-time processing of multi-step parts, and improve the production efficiency.
3, the use of protective grating and electrical box interlock life safety protection device.
4. Adopt advanced integrated hydraulic system with good reliability.
Main configuration:
1. Electrical control The main electrical components are produced by Schneider.
2. The main seals of the oil cylinder are produced by Japan Huarka Company.
3. The hydraulic system is controlled by cartridge valve, and the main hydraulic components are made by Germany Hoerbiger Company.
4, blade produced by Shanghai Machinery Factory "Shangdao brand" blade (6CrW2Si).
5, The hydraulic pump adopts space standard low noise internal gear pump NT3 series (Shanghai Chengjie).
6, China Taiwan HIWIN linear guide rail and ball screw.
7, Japan Panasonic Panasonic or Mitsubishi servo drive and servo motor.
8, The hydraulic system adopts German EMB pipe connection to ensure the stability of the hydraulic system in long-term operation.
The following CNC systems are available:
E20 uses frequency conversion control technology;
Automatic positioning of electric rear stopper and upper slider;
Unidirectional positioning, eliminate the lead screw transmission clearance;
Multi-channel program automatic operation, processing quantity automatic counting;Power off memory, M/inch conversion.
The MD-20 is controlled by servo numerical control technology;
Automatic and accurate positioning of electric rear stopper;
All Chinese operation interface, intuitive and simple;
Multi-channel program automatic operation, automatic shear count;
The stopper will give way automatically.
Use servo control technology;
275X48 pixel highlight LCD display;Electric rear stopper automatic positioning, automatic retreat;
Automatic multi-program running, program and program step linking, shear counting, shear limit, power off memory, M/inch conversion.