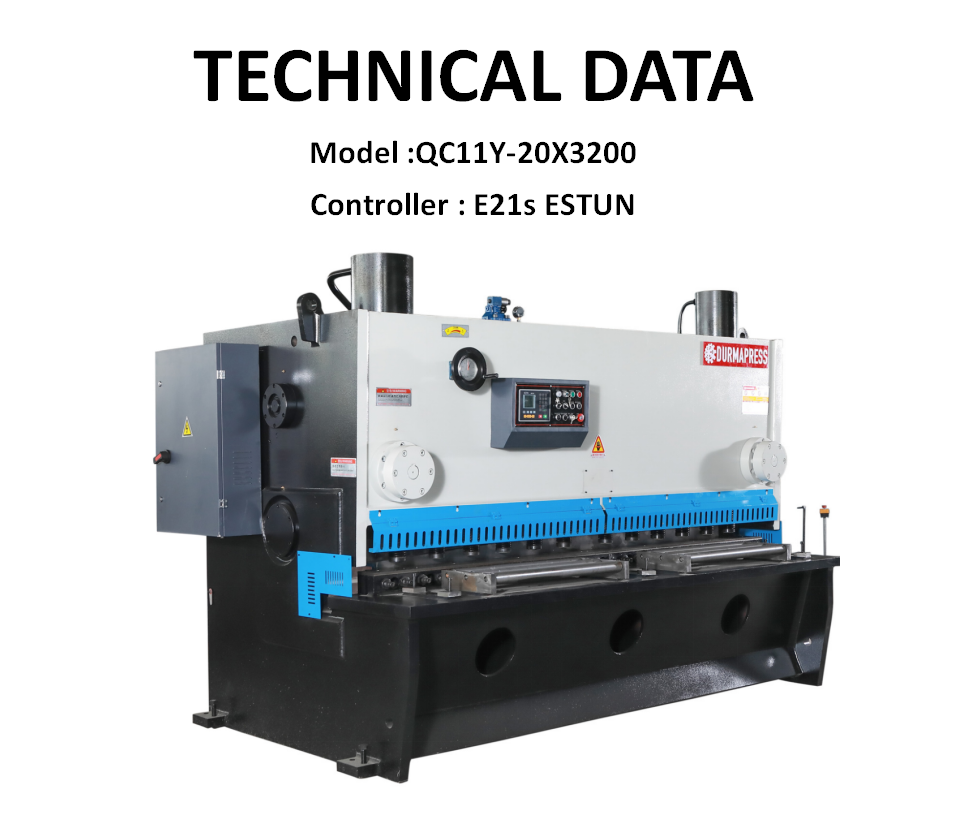 QC11Y-20X3200 Hydaulic Guillotine Shears Features:
l Steel plate welded structure, hydraulic transmission, nitrogen cylinder return
l Easy operation, reliable performance, beautiful appearance
l The blade gap adjustment has a sign indication, the stepless adjustment is light and rapid
l It has a light alignment device and can adjust the stroke of the top blade holder steplessly.
l With hydraulic and electrical overload protection
l Rolling material support ball will reduce the scratch and frictions as well
l Adopt safety protection fence for the safety of workers
l Straightness: ±0.10mm for 3m plate cutting
l 50% faster than others (30 times/min for our 6x2500 shear while others is only 12 times/min)
l Blade material:6CrW2Si
l Heat treatment: 55°-60°HB
l Low noise (70bd), gear pump drive by hydraulic
l E21s, E200PS, DAC360S CNC system can be selected
QC11Y-20X3200 Hydaulic Guillotine Shears Controller System:
l High-definition LCD display with Chinese and English language options. Programming parameters can be displayed on one page, making programming faster and more convenient.
l Backgauge: Intelligent positioning, manual adjustment can also be performed as needed, and mechanical manual positioning device is eliminated.
l Shearing stroke: Built-in shearing time relay, easy operation and cost saving.
l Cutting angle: built-in cutting angle adjustment function, eliminating the angle indicator and buttons.
l Knife edge clearance: encoder feedback, timely display of knife edge clearance, easy and convenient operation.
l With one-key parameter backup and recovery function, parameters can be restored at any time as needed, reducing maintenance costs.
l All keys on the panel are micro switches, which have passed strict tests such as EMC, high and low temperature, and vibration to ensure product stability and service life.
Description Of Main Configuration
1. Machine Body
The foundation of every Durmapress press brake is a solid, mono-block frame which made from high yield steel. Which means our press brakes will perform accurately and reliably year after year.
Every press brake frame is tempered.
We' re so confident in our frames so that we offer a 15-year warranty with our standard machines.
2.Germany Valve
Adopt Germany's Bosch Rexroth integrated structure of oil pump and hydraulic valve to ensure the bending accuracy.
3.
Main Motor

Compared to traditional stepper motors, the advantages of using servo motors include: improve the accuracy to ± 0.01mm, the noise decrease to 25 decibels, reduce energy consumption by 60%, consump 70% less hydraulic oil and 30% higher efficiency.
4.
Germany EMB Casing Tube
The EMB Casing Tube and connectors effectively reduce the adds againest welding slag jaming the valves and affect oil flowing
5.Electrical System Blade clearence adjustment
Adjust the cutting blades gap by motor according the cutting thickness of the metal sheet can get better cutting performance
6. WorkingBeach Rooling Steel Ball
Rolling steel ball of workbench can reduce friction , protect the workpiece surface ; delicate design is convenient for cutting petty materials by hand
7.
Front Supportor
Verticality regulator and front positioning device ; setting verticality and positioning device on the left-most front supporter , guaranteeing the cutting precision , easy operation , practical and efficient
8.
Press Steel Sheet Cylinder
Made by high-quality alloy tool steel , the machine can meet the impacting load and high wear resistance requirements when working
9.
Blade
Standard materials: 9GrSi/6CrW2Si

Can Use for 4 sides
10.Schneider Electrical Parts

Use French schneider electrics to ensure machine stability , High quality electric parts can perform well even the electricity is not stable and customs can easily get the replacement anywhere in the world
11.Limit switch
Enhancing the service life and operational sensitivity and never broken up
12.Back Gauge
High-Precision back guage device , fine ball screw and polished rod structure , high performance motor drive ,ensuring the positioning accuracy , unique timing transmission mechanism , reliable and stable