shearing machine blade with different material
Views: 80 Author: kelly Publish Time: 2018-03-05 Origin: Site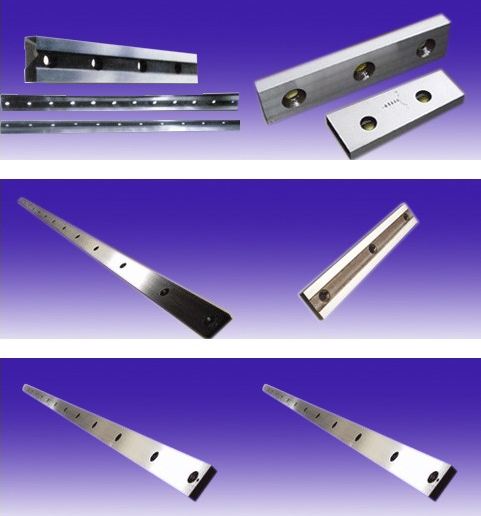 Shear blade material generally T10, 9CrSI, 6CrW2Si,
QC12Y shears blade
QC11Y shears blade
Cr12MoV, H13, alloy steel and other materials.
Products are widely used: light industry, aviation, shipbuilding, metallurgy, instrumentation, electrical appliances, stainless steel products, steel construction and decoration industries.
Shears blade selected materials are divided into three categories: carbon tool steel, low alloy tools, alloy tool steel.
Carbon knot tool steel
Carbon steel is generally used steel 65,75, T8, T10 and other materials, the material produced by the blade heat treatment hardness HRC57-59 degrees range for ordinary low-carbon cold-rolled sheet, ordinary A3 sheet and scrap recycling, cutting, This feature is low cost, the product price is appropriate.
Low alloy tools
Low alloy tool steel blades commonly used materials are: 6Crw2sI, Cr5Mo1V, 9CrSi, Cr12MoV, etc., the blade heat treatment hardness HRC58-62 degrees range, specially cut stainless steel, suitable for hot-rolled plate, stainless steel, medium and heavy plate shear cut.
Alloy tool steel
Alloy tool steel shears blade material: 4Cr5MoSiV1 (H13K), 7Cr7Mo2V2Si9 (LD), W6Mo5Cr4V2 (6542), H13 and so on. Blades of this material are used for hot-rolled billets, hot-sheared, heavy-gauge steel plates, etc. This feature is resistant to high temperatures and difficult to anneal for the hot-rolling and hot-shearing processes of steel mills.