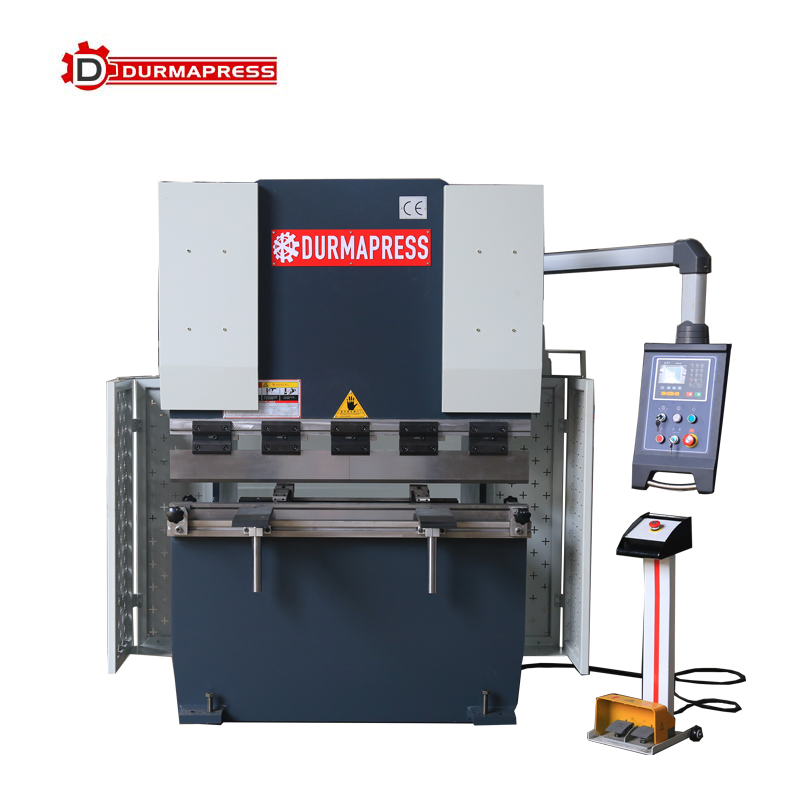 WE67K-160T3200 HYDRAULIC PRESS BRAKE Technical parameter unit value

Nominal pressure KN 160
Length of worktable mm 4000
The distance between columns is MM 3300
Table height mm 900
Table width mm 80
Length (overall size) mm 4130
Height (overall size) mm 2680
Width (overall size) mm 1730
Sliding stroke mm 200
Slider opening height mm 470
Throat depth mm 400
Slider down speed mm/s 160
Slider working speed mm/s 9
Slider return speed mm/s 120
Main engine motor power Kw 11
Weight 13700 Kg
WE67K-160T3200 HYDRAULIC PRESS BRAKE High precision molding:
PLACKER bending machine with high precision, high speed characteristics. Through advanced closed loop and servo hydraulic technology, pleneca bending machine slider repetition and parallel accuracy can reach +/-0.01mm
Superior accuracy of Peneca bending machine:
· Y1/Y2 slider synchronous control
· Advanced closed loop and servo hydraulic technology realize the high precision and rapid forming of The Peneca bending machine during bending
+ / - 0.01 mm slider repeat precision
+ / - 0.01 mm slide block parallel precision
Basic features of the frame
1.PLACKER company original design, beautiful appearance.
2. Overall steel plate welding structure, thick frame, rigid and strong shock absorption.
3. The structure adopts sand blasting method to remove rust, and sprayed with anti-rust paint.
4. The column, upper working slider and lower working table of the machine are finished by imported large CNC floor boring and milling machine to ensure the parallelism, verticality and parallelism of each mounting surface.
5. Moving up bending machine design, smooth work, convenient operation, safety.
6. It has the function of keeping calendering at the bottom dead point to ensure the accuracy of the workpiece.
7. The bending Angle accuracy shall be within +30" under relevant national standard conditions.
Numerical control system
DELEM company of the Netherlands or CYBLEC company of Switzerland, whose characteristics are:
1. Using real-time Windows embedded operating system, can achieve instant shutdown, frequent switch.
2. Fashionable appearance design, easy to operate, reflects the people-oriented.
3. Intelligent modular structure, the system can flexibly expand 24 axis.
4.10.4 "CRT monochrome LCD display.
5. Built-in PLC function, reduce circuit design, increase reliability.
6. Automatic accumulation of machine working time and bending times.
7. Bending process preparation: bending Angle programming, continuous programming of multiple processes.
8. Mold programming and selection of bending process programming, according to the plate thickness, material, length of automatic calculation of bending force, automatic calculation of Angle error correction.
9. All-round collision detection function, eliminate waste products.
10. Error warning system to prevent misoperation.
11. Built-in word processor, 128MB memory, USB interface.
12. Remote diagnostic function.
13. Public/English conversion, including a variety of Chinese text display.
The hydraulic system
1. Adopt German BOSCH complete set of hydraulic assembly, proportional servo valve drive, hydraulic valve group, hydraulic system with overload protection function, can get high synchronous control precision.
2. The motor is assembled by ABB or imported from Germany, with strong power and low noise.
3. The sealing ring is made of NOK from Japan and ECO from Germany, with compact structure, good sealing performance, reliable operation and long life.
4. There is a high pressure filter on the hydraulic unit to ensure filtration.
5. Clear and intuitive display of oil level height and temperature.
6. The machine can work continuously under rated load, the hydraulic system has no leakage and is stable, and the precision is high.
Slider synchronization control
Axis Y1~Y2 are independent motion parameters of two cylinders controlled by numerical control system. Two grating scales are installed at both ends of the machine tool, which are used to determine the exact distance between the slider and the workbench. The grating ruler is connected with the workbench through a small frame to eliminate the influence of column deformation on the position of the slider. When the slide block is running, the position data is immediately fed back to the NUMERICAL control system, which can measure and output the servo valve control signal S1~S2, control the output flow of the two electro-hydraulic servo valves, so that the two cylinders are synchronized. Movable beam structure is four-point positioning, good stability, Y1, Y2 axis can be programmed separately, can work in the state of partial planting, also can be conical bending (that is, inclined bending), bending forming can be suspended pressure holding time, reduce the rebound of the workpiece, pressure holding time can be set.
Deflection compensation of worktable
Automatic cylinder compensation, imported tubing, pressure resistance, reliable work, long service life.
Quick clamping device for mould
1. Manual quick clamping system with random clamping mode, local manual fine tuning, no blind area compensation.
2. A set of imported assembly standard mold (small bending mold for upper mold and double V for lower mold) is provided as standard.
The mould
Bending machine mold has a variety of shapes, can be suitable for various forming processing. Please select the most suitable mold to ensure high accuracy and high efficiency of bending processing. Adjust the position of the lower die in different working conditions handy. According to customer requirements to provide a variety of special mold and imported mold.
Upper die: bending machine precision upper die using high quality tool steel material, quenched water and grinding, to ensure hardness and accuracy, processing parts 53-58RC, processing capacity < =100Ton/m, to ensure the high efficiency of conventional plate bending processing. The upper die with different lengths can be assembled into a certain width according to the requirements of work to meet the processing needs of special workpiece.
After the keep-off
Using the world class Premium quality rear stopper produced by the original PLACKER factory, driven by the original imported servo motor, the structure of the stopper system is processed out of aluminum alloy profiles in one time, with the characteristics of strong, small inertia, so that the speed, load capacity and high precision. The control axis number can be selected from single axis X to X -- R, X -- R -- Z1 -- Z2 and X -- X '-- R -- Z1 -- Z2. High precision rear positioning system: three position positioning, square head stop.